What Is People Risk Management? Explained – 2023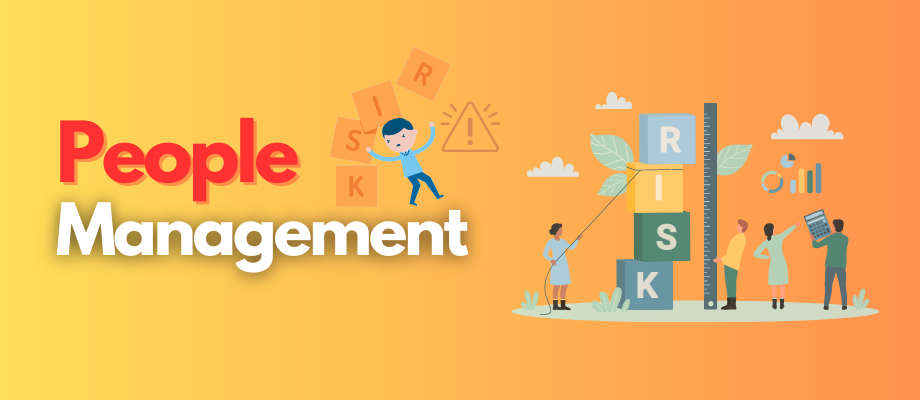 In the rapidly evolving and intricate business environment of today, organizations encounter a multitude of challenges concerning their most prized resource: their workforce. Employees, contractors, customers, and other stakeholders all contribute significantly to an organization's prosperity, yet they also introduce inherent risks that can hinder the realization of strategic goals.
To counter these potential pitfalls, people risk management emerges as a strategic approach that seeks to recognize, evaluate, and alleviate these risks. The primary objective is to cultivate a steadfast and efficient workforce that remains in harmony with the organization's overarching objectives.
Table of Contents
What is People Risk?
People risk refers to the possible problems that can happen because of the actions or decisions of individuals in a company. It includes things like employee risk such as misconduct, high turnover, poor leadership, and safety issues. Managing people risk means finding ways to prevent or handle these issues to keep the organization running smoothly and its employees happy and productive.
This may involve training, clear policies, and creating a positive work environment. By doing this, the company can protect its reputation and achieve its goals effectively.
What is People Risk Management?
People risk management is like an organization's way of keeping an eye out for any troubles that could pop up with their employees, managers, or anyone involved in the company. The whole idea is to deal with issues related to people in a smart way by not damaging company's performance, reputation, or overall success. It's all about being proactive and making sure things go smoothly with the workforce.
Why is People Risk Management Important?
People risk management is crucial because it helps organizations handle potential problems with their employees and managers before they become big issues. It keeps the workforce happy and productive, protects the company's reputation, and ensures they follow the rules and laws.
By managing these risks, the company can make better decisions and be more prepared for any challenges that come their way.
How People Risk Can be Reduced?
Talk Openly: Make sure everyone can talk honestly and share their thoughts without fear. For example, have regular team meetings where employees can discuss their concerns and ideas.
Train and Improve Skills: Help your employees learn new things and get better at their jobs. For instance, offer workshops or online courses to enhance their abilities.
Set Clear Goals: Make sure everyone knows what they need to do and how their work contributes to the company. For example, set targets for each employee to achieve.
Embrace Diversity: Encourage people from different backgrounds to work together and value their unique perspectives. For instance, create a committee to promote diversity and inclusion in the workplace.
Prepare for the Future: Identify potential leaders within the company and provide them with opportunities to grow. For example, offer mentoring programs to help employees develop their leadership skills.
What Are The Elements of People Risk Management?
Policy and Procedures: Developing and improving the rules and guidelines that support the program.
Training: Ensuring that the personnel have the necessary skills and knowledge to follow the policies and procedures.
Risk Assessment: Evaluating potential risks using a consistent and documented method.
Risk Disclosure: Sharing information from the risk assessment so that everyone knows about the risks.
Risk Mitigation: Coming up with strategies to reduce or manage the risks to an acceptable level.
Risk Monitoring: Continuously keeping an eye on possible threats or incidents that may affect personnel.
Response & Recovery: Acting proactively to avoid or minimize loss and return to normal operations as quickly as possible.
Notification: Informing the right people about any important personnel risk information.
Data Management: Collecting and maintaining the necessary data to run a robust personnel risk management program.
Program Communication: Communicating responsibilities and risks throughout the organization to ensure everyone is on the same page.
Conclusion
In conclusion, people risk management is a crucial aspect of any organization's success. By identifying, assessing, and mitigating potential risks related to employees, managers, and stakeholders, companies can create a positive work environment, maintain a productive and engaged workforce, and protect their reputation. Implementing clear policies, providing adequate training, and fostering open communication are essential in managing people risk effectively.
Additionally, continuous monitoring, proactive response strategies, and well-structured data management contribute to a robust people risk management program. By prioritizing the well-being and development of their workforce, organizations can build resilience, adapt to challenges, and achieve their goals with confidence. Ultimately, investing in people risk management is an investment in the long-term success and sustainability of the organization.
FAQs
What is people risk in risk management?
In risk management, people risk refers to the potential problems that can arise from the actions or decisions of individuals within an organization. This includes issues like employee misconduct, high turnover, poor leadership, and safety concerns.
What are the 5 pillars of people risk?
The five pillars of people risk management are:
Policy and Procedures
Training
Risk Assessment
Risk Disclosure
Risk Mitigation
What is meant by people risk?
People risk refers to the potential risks and challenges arising from individuals within an organization. It includes issues like employee misconduct, high turnover, and poor leadership. Managing people risk involves proactive measures to prevent or mitigate these issues and foster a positive work environment.
---